About Us
Our experience in the Window Coverings industry combines over 30 years.
We have made a business out of selling and installing quality products at a fair price to our customers. Kathy Harvey, Liz Wallis, TJ Johnston, Nikki Everett and our mascot Marley make up our Tidal Blinds team.
Our home based business enables us to offer exceptional discounts for all your window covering needs and our prices are lower than the big warehouse and department stores for custom blinds and specialty window coverings.
Tidal Blinds was established over nine years ago and has proven to be exactly what the Cowichan Valley and surrounding area needs. We bring the showroom to you, offering in-home service including free estimates with a no obligation approach.
Because we provide "Good Old Fashion Service" to all our customers.
Tidal Blinds is proud to sell Canadian made blinds, most of them produced right here in British Columbia. We love to help our customers in making the right decisions on blinds and in choosing what will work best for them.
Among our many accomplishments we have supplied window treatments to the Chemainus Senior Drop-in Center, Chemainus and Ladysmith Health Care Centres, Nanaimo Airport and the Jim Pattison Toyota Dealership in Duncan to name a few.
We Love Challenging Windows
We pride ourselves in handling all types of challenging windows, angles, arches, skylights, remote controls, shutters, and even boats and RV's to name a few. We have even taken on jobs that most companies won't or can't do. Our installation team is certified, courteous, efficient and punctual.
We pride ourselves in not over selling to our customers as well as giving reliable and honest advice when required. Our motto is "Good Old Fashion Service" and all of us at Tidal Blinds work hard to live up to that motto.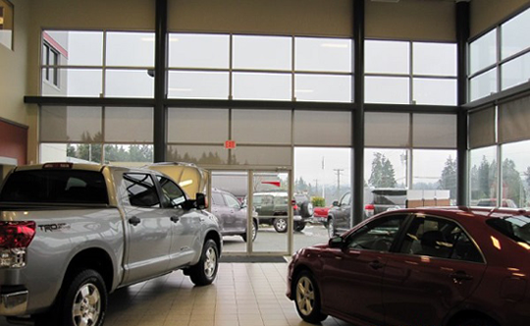 We are proud to be members of the BBB and the Duncan, Chemainus & Ladysmith Chamber of Commerce.